Activité (version française)
Constructeur de machines de soufflage de bouteilles PET, de 1000 à 9000 bouteilles par heure
Activité (version anglaise)
Manufacturer of PET stretch blow-moulding machines, with outputs from 1000 up to 9000 bottles / hour
Titre actualité FR
Le spécialiste des souffleuses PET petites et moyennes cadences, pour toutes les applications
Titre actualité EN
Specialised manufacturer of blow-moulding machines with small and medium outputs for any application
Fiche (version française)
1 BLOW a développé une gamme complète de souffleuses PET hautes performances et très flexibles pour répondre aux attentes des marchés :

- eaux, boissons
- huiles alimentaires
- jus de fruits (remplissage à chaud)
- lait, yaourts à boire
- sauces
- miel
- produits d'entretien, détergents
- produits cosmétiques
- et plus globalement toute application utilisant des bouteilles en PET ou rPET.

Dans notre usine basée près de Paris, 1 BLOW construit des souffleuses pour des bouteilles de 100 ml à 30 litres, et des cadences de 1000 à 9000 bouteilles par heure. Un large éventail d'options (Hot Fill, flacons ovales, orientation du col, ...) apporte des possibilités encore plus larges aux souffleuses 1 BLOW. Entièrement électriques, leur consommation d'énergie est très réduite, rendant le coût de production des bouteilles le plus bas du marché.
Les souffleuses 1 BLOW sont compatibles avec la plupart des moules existants : vous optimisez votre investissement!
Fiche (version anglaise)
1 BLOW developped a wide range of high performance and highly flexible blow-moulding machines for various applications :

- water, drinks
- edible oil
- juices (Hot Filling)
- milk, yogurt
- sauces
- honey
- detergents
- cosmetics
- and in general any application using PET or rPET bottles.

1 BLOW machines are built in our factory based near Paris, for bottles ranging from 100 ml up to 30 litres and outputs from 1000 up to 9000 bottles/hour. A wide choice of options is available : Hot Fill, preferetial heating for oval bottles, neck orientation, ... so that you can increase the possibilities of your 1 BLOW machine.
All 1 BLOW machines are fully electric with a very low power consumption, making bottles production cost the lowest in the market.
1 BLOW machines are compatible with most of the existing blow-moulds : your investment is optimized !
Adresse
23 Chemin de Gerocourt
Prénom du contact
Olivier
Téléphone
+33 (0)9 80 08 20 75
Bottles
Extrusion/Blow molding
Case packing Palletization
Industrial suppliers & Services
Logo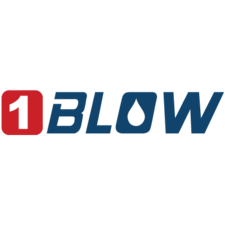 Nom du fichier [copy]
1blow.jpg
Légende (version française)
Différentes formes pour différentes applications
Légende (version anglaise)
Various shapes for various applications
Timestamp
27 February 2020